30/11/19
PLEASE NOTE:
Our new e-mail address is: grayshottfolkclub@btinternet.com
Or call 01428 607096
Grayshott Folk Club went live with our first ever gig on
22nd January 2011. The main aim of Grayshott Folk Club is to bring "quality live music at affordable prices " to Grayshott, which is a village near HINDHEAD in South-West Surrey.
We mostly host Folk bands/musicians and our past guests include;
Altan, Ashley Hutchings/Blair Dunlop, Belshazzar's Feast, Breabach, Jez Lowe & The Bad Pennies, Lau, Merry Hell, O'Hooley & Tidow, Sam Carter/Sam Sweeney, Strawbs,The Bully Wee Band, The Churchfitters, The Young 'Uns and Tide Lines, amongst many others.
We occasionally stray off-piste with a little bit of Americana/Pop/Rock music and Caravan, Colin Blunstone & Band, Jarrod Dickenson, Joe Topping & Scott Poley, Linda Lewis, Mike d'Abo, Police Dog Hogan, The Christians and The Leisure Society have all played for us since we started out.
Basically, we do whatever we can, to keep it live, keep it local and to keep hungry musicians off our streets......
Our first choice venue is:
Grayshott Village Hall,
Headley Road,
Grayshott,
Nr. HINDHEAD,
Surrey GU26 6TZ
and from time to time, we also use
Grayshott Social Club, Hill Road, Grayshott,
Nr. HINDHEAD Surrey GU26 6HL
and
St. Alban's Church, Tilford Road,
HINDHEAD, Surrey GU26 6RB
as venues to host our live music events.
If you wish to buy tickets for our gigs, you can buy them in person from either:
Grayshott Post Office, Crossways Road, Grayshott GU26 6HJ
or
Haslemere Bookshop, High Street, HASLEMERE, Surrey GU27
Alternatively, you can call Des O'Byrne on 01428 607096
or e-mail me at: grayshottfolkclub@btinternet.com
for all enquiries relating to Grayshott Folk Club.
We also sell our tickets online through ENTS 24 but please be advised there is a 10% surcharge for using this service
----------------------------------------
Next Up:
2020 Gig Dates:
Saturday 25th January 2020 @ 7.30pm
Alden, Patterson & Dashwood with The Shackleton Trio
Tonight we feature six top young musicians from East Anglia, who will play a set each as their own trios, before joining together to make an awesome six-piece ensemble.........
First up, we have Norwich-based Folk/Americana trio
Alden, Patterson & Dashwood, who make a return visit to Grayshott. They weave rich vocal harmonies with Fiddle, Dobro, Guitar and Mandolin around beautifully written original songs and melodies.
Check them out here:
https://www.youtube.com/watch?v=SbncGMmCy_A
The Shackleton Trio
The Shackleton Trio play an exciting blend of Americana, Folk and self-penned material. Georgia Shackleton sings and accompanies herself on the Fiddle and performs her own "wordy songs about other people". She is influenced by British, American and Scandinavian Folk traditions that have a regional twist from her native East Anglia.
Georgia has played in several lineups and in different contexts but she has teamed up in this trio with Guitar powerhouse Aaren Bennett and Mandolin ace Nic Zuppurdi. They have toured the UK, Belgium and The Netherlands and played as a Main Stage act at many Folk Festivals across the land.
They too have graced the stage at Grayshott Village Hall before so we know we are in for a great night of live Folk/Americana music.
I'm particularly looking forward to hearing these accomplished musicians playing together as one.
At: Grayshott Village Hall GU26 6TZ
Tickets £14 available from Des O'Byrne on 01428 607096
--------------------------------------------
Saturday 29th February 2020@ 7.30pm
Coig (Traditional Celtic supergroup from Nova Scotia)
https://www.youtube.com/watch?v=WyiFaTXBsPU&list=RDEMrjchrw-OR8QhWMREcQGXzg&start_radio=1
+ Copper Viper
--------------------------------------------
Saturday 21st March 2020 @ 7.30pm
The Siobhan Miller Band
https://www.youtube.com/watch?time_continue=115&v=v-0Or1f5uKQ&feature=emb_logo
https://www.siobhanmiller.com/
One of Scotland's finest singers alongside some talented musicians.
+ Support (tbc)
--------------------------------------------
Monday 30th March 2020 @ 7.30pm
Bob Fox
The "Folk Singer" from the National Theatre's adaptation of Michael Morpurgo's "War Horse"
+ Jon Wilks
--------------------------------------------
Saturday 18th April 2020 @ 7.30pm
Oysterband 3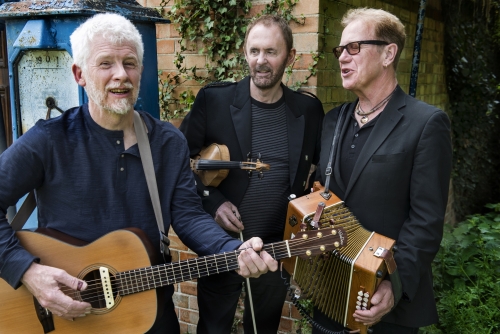 + Support (tbc)
--------------------------------------------
Tuesday 26th May 2020 @ 7.30pm
Daphne's Flight
+ Support (tbc)
--------------------------------------------
More to follow.......
Other gigs will be announced, as and when they are confirmed.
Watch this space!