UPDATE: 17/06/21
We are currently still at Stage 3 of HMG's "road map" out of the pandemic so many Covid restrictions are still in place.
As a consequence, the gig on
Friday 25th June 2021
has now been moved to:
Grayshott Social Club,
Hill Road,
Grayshott,
Nr. HINDHEAD,
Surrey GU26 6HL
Show times are at:
6.45pm-8.00pm
and
8.45pm-10.00pm
Our guests that night will be
POLICE DOG HOGAN
We know from their last visit to us in October 2018, that Police Dog Hogan put on a high energy and thoroughly entertaining show. Back then, an enthusiastic and appreciative full house clapped and cheered their approval of the band's performance and everyone had a good time.
So much so, that PDH have asked if they could come back and do a warm up show at Grayshott, before they appear at Black Deer Festival in Kent, on Sunday 27th June 2021, alongside the likes of Van Morrison and Robert Plant.
We of course, jumped at the chance of having them back and just so long as all of the current covid restrictions have been lifted by that time, we will be delighted to re-start our live shows with one of our favourite bands from the past ten years since we started up in 2011.
After so many disappointments and postponements, it has been our love of live shows that has kept us going, these past 15 months or so.......
Here's just one good reason why you should join us at
Grayshott Social Club on Friday 25th June 2021........
https://m.youtube.com/watch?v=D__jloAGkAQ&list=RDD__jloAGkAQ&start_radio=1
but there are so many more.
Tickets £15 but please be advised that although we have two shows planned that evening, places are strictly limited.
For further information and all ticket enquiries,
please call Des O'Byrne on 01428 607096
--------------------------------------------
***PLEASE NOTE:
This gig is now being rescheduled for March 2022
Friday July 16th 2021 @ 7.30pm
TRIALS OF CATO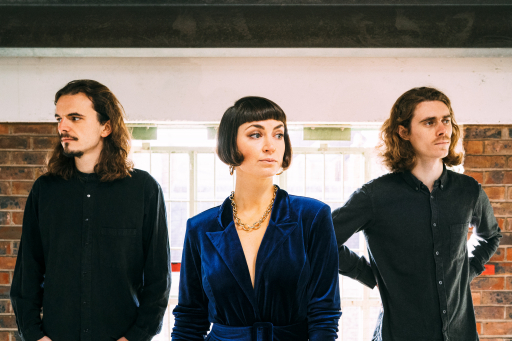 At Grayshott Village Hall,
Headley Road,
Grayshott,
Nr. HINDHEAD,
Surrey GU26 6TZ
Tickets £16
Call Des O'Byrne on 01428 607096
---------------------------------------------------------------------------
Friday 6th August 2021 @ 7.30pm
MERRY HELL
"Joyful Folk-Rock with messages of hope for today"
Festivals all over the country will be welcoming Merry Hell to their line ups this Summer. Wickham, Beardy, Towersy, Cornwall and Lyme are just a few of the festivals that they will be taking their feelgood vibes to and here at Grayshott Folk Club, we will be welcoming them with open arms. They last appeared at Grayshott in July 2019 and so much has happened since then but we were keen to get them back at the earliest opportunity.
Despite the 2020 lockdown, Merry Hell managed to record a brand new album and release a new single. Both proved to be very welcome distractions and a great pick-me-up for many people. So much so, that their album "Emergency Lullabies" got terrific reviews and Merry Hell were awarded Best Folk Act of 2020 by Folking Awards.
If you want to leave your troubles behind and come out for a "reet good night out", you can't do better than seeing Merry Hell play live at Grayshott Folk Club.
At:
Grayshott Village Hall,
Headley Road,
Grayshott,
Nr. HINDHEAD,
Surrey GU26 6TZ
Tickets £16
For further information and ticket reservations,
Call Des O'Byrne on 01428 607096
---------------------------------------------------------------------------
Clearly, events after March 2020 were beyond our control and whilst we had to postpone a dozen gigs or more last year, we are proud to say that we did still witness some memorable performances, between lock downs those being:
Katherine Priddy/Jon Wilks
September 26th 2020
Zoe Wren + Hannah Dorman
October 22nd 2020
We thank all of these performers for putting on excellent shows despite the obvious challenges that Covid-19 presented.
In addition, we would like to thank all of those people whose determination and support made the effort worthwhile.
--------------------------------------------------------------------------
Postponed gigs in 2020, included:
Siobhan Miller, Bob Fox, Oysters 3, Daphne's Flight, John Blek,
Tannahill Weavers, Fara, Tim Edey, Jonny Coppin,
Honey & The Bear and Becky Mills.
We fully intend to reschedule their gigs just as soon as the way ahead becomes clear.
---------------------------------------------------------------------------
Sadly, owing to continuing Covid-19 restrictions in 2021, we have so far had to postpone planned gigs with:
The Bully Wee Band, The Leisure Society, John Blek, Merry Hell, The Way Down Wanderers (due to be on tour from the USA), McGoldrick, McCusker & Doyle and Daphne's Flight.
We also intend to re-arrange gigs with these performers,
IF and WHEN possible.
--------------------------------------------
Please note: our e-mail address is now:
grayshottfolkclub@btinternet.com
Or you can call us on 01428 607096
--------------------------------------------
A little bit of Grayshott Folk Club history:
Grayshott Folk Club went live with our first ever gig on
22nd January 2011. The main aim of Grayshott Folk Club is to bring "quality live music at affordable prices " to Grayshott, which is a village near HINDHEAD in South-West Surrey.
We mostly host Folk bands/musicians and our past guests have included;
Altan, Ashley Hutchings/Blair Dunlop/Becky Mills, Belshazzar's Feast, Breabach, Coig, Jez Lowe & The Bad Pennies, Jon Wilks, Katherine Priddy, Lau, Merry Hell, O'Hooley & Tidow, Sam Carter/Sam Sweeney, Strawbs,The Bully Wee Band, The Churchfitters, The Young 'Uns and Tide Lines, amongst many others.
We occasionally stray off-piste with a little bit of live Americana/Pop/Rock/Prog Rock music and
Caravan, Colin Blunstone & Band, Jarrod Dickenson, Joe Topping & Scott Poley, Linda Lewis, Mike d'Abo, Police Dog Hogan, The Christians and The Leisure Society have all played for us since we started out.
Basically, we do whatever we can, to keep it live, keep it local and to keep hungry musicians off our streets......
Our first choice venue is:
Grayshott Village Hall,
Headley Road,
Grayshott,
Nr. HINDHEAD,
Surrey GU26 6TZ
and from time to time, we also use
Grayshott Social Club, Hill Road, Grayshott,
Nr. HINDHEAD Surrey GU26 6HL
and
St. Alban's Church, Tilford Road,
HINDHEAD, Surrey GU26 6RB
as venues to host our live music events.
If you wish to buy tickets for our gigs, you can buy them in person from either:
Grayshott Post Office, Crossways Road, Grayshott GU26 6HJ
or
Haslemere Bookshop, High Street, HASLEMERE, Surrey GU27
Alternatively, you can call Des O'Byrne on 01428 607096
or e-mail me at: grayshottfolkclub@btinternet.com
for all enquiries relating to Grayshott Folk Club.
We also sell our tickets online through ENTS 24 but please be advised there is a 10% surcharge for using this service.
--------------------------------------------
Our future gigs will be announced, as and when they are confirmed and once we have found a way to ensure we can put on gigs that are Covid-19 safe.
Watch this space and do please keep coming back to us!