Grayshott Folk Club went live with our first ever gig on 22nd January 2011. The main aim of Grayshott Folk Club is to bring "quality live music at affordable prices " to Grayshott, which is a village near HINDHEAD in South-West Surrey.
We mostly host Folk bands/musicians and our past guests include;
Altan, Ashley Hutchings/Blair Dunlop, Belshazzar's Feast, Breabach, Jez Lowe & The Bad Pennies, Lau, Merry Hell, O'Hooley & Tidow, Sam Carter/Sam Sweeney, Strawbs,The Bully Wee Band, The Churchfitters, The Young 'Uns and Tide Lines, amongst many others.
We occasionally stray off-piste with a little bit of Americana/Pop/Rock music and Caravan, Colin Blunstone & Band, Jarrod Dickenson, Joe Topping & Scott Poley, Linda Lewis, Mike d'Abo, Police Dog Hogan, The Christians and The Leisure Society have all played for us since we started out.
Basically, we do whatever we can, to keep it live, keep it local and to keep hungry musicians off our streets......
Our first choice venue is:
Grayshott Village Hall,
Headley Road,
Grayshott,
Nr. HINDHEAD,
Surrey GU26 6TZ
and from time to time, we also use
Grayshott Social Club, Hill Road, Grayshott,
Nr. HINDHEAD Surrey GU26 6HL
and
St. Alban's Church, Tilford Road,
HINDHEAD, Surrey GU26 6RB
as venues to host our live music events.
If you wish to buy tickets for our gigs, you can buy them in person from either:
Grayshott Post Office, Crossways Road, Grayshott GU26 6HJ
or
Haslemere Bookshop, High Street, HASLEMERE, Surrey GU27
Alternatively, you can call Des O'Byrne on 01428 607096
or e-mail me at: family@obyrne1.plus.com for all enquiries relating to Grayshott Folk Club
We also sell our tickets online through ENTS 24 but please be advised there is a 10% surcharge for using this service
---------------------------------------- See
http://www.grayshott.com/events/
for more details
Next Up:
-------------------------------------------
Friday 29th November 2019 @ 7.30pm
cua + Zoe Wren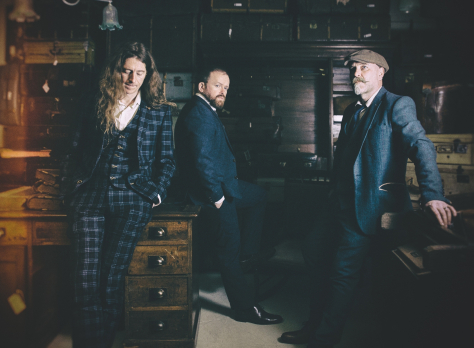 In Irish, the word cua (pronounced "coo-ah"), means hollow, as in sleepy hollow. cua's overall sound defies neat or handy categorisation but it will embrace and enthrall you. It draws on elements of traditional Folk, Jazz, Classical and American Roots music and also incorporates wonderful, close three-part harmonies-the kind that make your spine tingle.
cua now have three albums under their belts ("Flight Off The Islands", "Sounds of the Hollow" and "cua"), and although they have a passionate following both in their native Ireland and in Scotland, they have yet to recieve and achieve the acclaim they merit in other parts of the UK. Once again, Grayshott Folk Club is breaking new ground and introducing its audience to something different and very special.
With a combination of Bouzouki, Fiddle and Guitar, married to three strong voices, cua create a wall of sound that wraps itself around their audiences.
"They envelope you in a wave of harmony of powerful voices and instruments" Fiona Forbes, Kirkcaldy Acoustic Music Club.
In January 2019, such was the buzz and interest the band had generated that cua were a very late addition to the Celtic Connections programme in Glasgow. Despite their last-minute inclusion, their show was one of the very first to sell out.
Come along to Grayshott Folk Club to see why.
Listen to them singing "The Other Man" here:
https://www.youtube.com/watch?v=ZLLX2hVUeeA
+ Zoe Wren
http://www.zoewren.com/zxa8tg7kh95vb4iqoi62jdoo2laias
Zoe is a gifted young Singer/Songwriter/Guitarist/Piano player, who in recent months has travelled all over the UK and Europe to play. She is rapidly gaining a reputation for the quality of her performances and rising up the ranks of "must-see" musicians.
https://www.youtube.com/watch?v=oT5v9uVapvI
At: Grayshott Village Hall, Headley Road, Grayshott
Nr. HINDHEAD, Surrey GU26 6TZ
Tickets £15
Available from Des O'Byrne on 01428 607096
--------------------------------------------------------------------
Friday 13th December 2019 @ 7.30pm
Grayshott Folk Club's "Christmas Special" with:
Vicki Swan & Jonny Dyer
Our "Christmas Special" is the night when we invite our audiences to commune together around large tables. They can bring along their own food, table decorations (but no burning candles, please) and a bunch of friends. As usual, we provide a fully-licensed pay Bar and offer complimentary Christmas Crackers and Mince Pies to all of our audience members.
Tonight we welcome Vicki Swan and Jonny Dyer who will perform their "Winter Warmer", which is a pick 'n mix of classic Christmas Carols, Winter stories and joyful songs, together with a smorgasbord of Scandinavian Christmas songs and tunes. Vicki and Jonny effortlessly blend traditional material with contemporary sounds and we'll all have a chance to join in.
Be sure to bring along your I-Spy book of "Weird and Wonderful Folk Instruments" as you'll be sure to collect lots of points and see and hear things you never knew existed; be entranced by the haunting sound of the Nyckelharpa, amazed at the Cow Horn and meet some Bagpipes that didn't originate in Scotland. It all sounds like the perfect way to kick off our Christmas festivities.......
+ Rosewood
We know Simon, Val and Phil from old. They've visited Grayshott Folk Club as either Crownstreet of Bof! many times before. We also know that they too play unusual instruments and make wonderful sounds and they'll make a perfect musical blend with Vicki and Jonny.
Rosewood sing and play traditional and contemporary songs and instrumentals, some of which they have written themselves. Their unique features are the variety of their source material and the range of instruments they play so keep that I-Spy book handy!
Rosewood are:
Val Woolard-Bagpipes, Recorder, Flute, Hammered Dulcimer, Desk Bells, Saxophone, Vocals-but not neccessarily all at the same time........
Phil Lyons-Guitar, Ukulele, Bouzouki, Vocals
Simon Haines-Melodeons, Concertina, Bandoneon (a what?), Vocals
At: Grayshott Village Hall, Nr. HINDHEAD, Surrey GU26 6TZ
Tickets £15
Available from Des O'Byrne on 01428 607096
-------------------------------------------------------------------------
2020 gig dates will be added, as we confirm them.
For further information go to