Updated 22/01/22
We are primed and ready to kick off our 2022 programme next Friday, 28th January 2022 @ 7.30pm.
With the suspension of so-called "Plan B" restrictions, we can go ahead as normal with our gigs but we would still recommend the washing of hands and wearing of masks, particularly when moving around in the Hall.................
Next Up at Grayshott Folk Club:
Friday 28th January 2022 @ 7.30pm
NIALL MCNAMEE
We've always championed new performers and we are delighted to introduce to you, our latest discovery; Niall McNamee. We saw Niall performing on the River Stage at The Isle of Wight Festival in September 2021 and were so impressed by his performance that we immediately set about persuading him to come and play for us.
Friday 28th January 2022 was the first mutually-agreeable date we could find and we very much look forward to seeing him play live again.
Niall is an actor who between jobs has supported himself by playing standard Irish Folk songs in pubs and clubs all over London.
During that time, he has developed his songwriting skills and built up a catalogue of his own songs. Nothing he writes or sings is delivered without the full-blooded passion that his Irish heritage has instilled in him and his performances are always from the heart.
He draws his audience in right from the off and once they've responded positively, his shows are full of good energy. We are delighted to have Niall kicking off our 2022 programme and we hope you will be able to join us.
We've built a reputation on seeing the "next big thing" and we definitely feel we are backing a winner this time.
Don't miss Niall McNamee.........
https://m.youtube.com/watch?v=EZ8Ypy7dNSQ
At Grayshott Village Hall,
Headley Road,
Grayshott,
Nr. HINDHEAD,
Surrey GU26 6TZ
Tickets £15
Call Des O'Byrne on 01428 607096
--------------------------------------------------------------------------
Saturday 19th March 2022 @ 7.30pm
THE TRIALS OF CATO
Rescheduled from July 2021, we are delighted to finally welcome The Trials Of Cato to Grayshott Folk Club.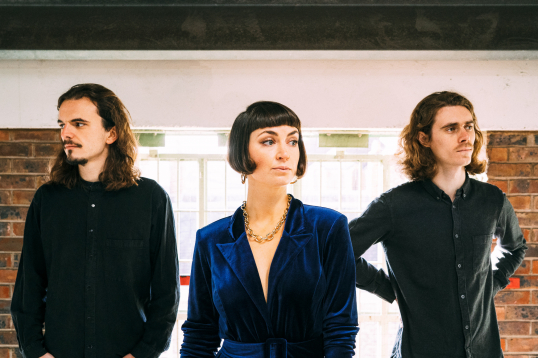 This talented trio of musicians are picking up where they left off before lockdowns were even a thing and they are destined for bigger things.
Their debut album "Hide and Hair" won the BBC Radio 2 Folk Album of the Year in 2019.
They pay respectful homage to the tradition, whilst twisting old bones into something febrile and modern with stomping songs and captivating stories. Their live performances are legendary..........................................................................................................exciting and uplifting in equal measure.
The band were formed in Beirut in 2016 by three teacher friends.
When they returned to the UK they started playing live gigs and just a short while later, they toured extensively across the UK, Europe and North America. They were on the up and up................and then the deafening silence of a worldwide pandemic stopped them dead in their tracks.
They took the time to re-set themselves and now with a new member, are set back on a course to bring their unique style of music that has a broad range of references and influences from across the World to a discerning and appreciative audience.
Original members Robin Jones (Mandolin) and Thomas Williams (Guitar) are joined by Multi-Instrumentalist (Mansdolin< Banjo, Irish Bouzouki), and exquisite singer Polly Bolton.
With their second album "Gog Magog" due for release any day now, this is the perfect time to see how this band has evolved and gone from strength to strength.
Tickets £16
Available from Des O'Byrne on 01428 607096
or
Ents 24
https://www.ents24.com/nr-hindhead-events/grayshott-village-hall-1/trials-of-cato/6288750
---------------------------------------------------------------------------
Friday 22nd April 2022 @ 7.30pm
cua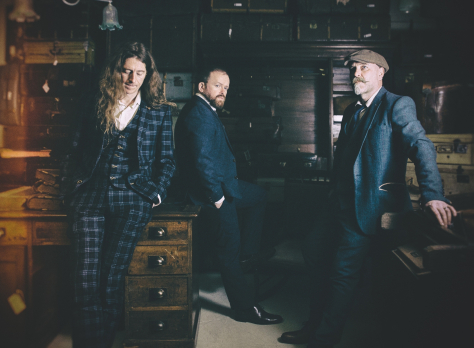 Tickets £15
Available from Des O'byrne on 01428 607096
---------------------------------------------------------------------------
Clearly, events after March 2020 were beyond our control and whilst we had to postpone a dozen gigs or more last year, we are proud to say that we did still witness some memorable musical performances between lock downs, those being:
Katherine Priddy/Jon Wilks
September 26th 2020
Zoe Wren + Hannah Dorman
October 22nd 2020
Police Dog Hogan
Friday 25th June 2021
And once restrictions were lifted, we thoroughly enjoyed a cracking gig by:
Merry Hell
Friday 6th August 2021
and
Serious Child with Andy Ruddy
+ Kirsty McGee
Sunday 5th September 2021
We thank all of these performers for putting on excellent shows despite the obvious challenges that Covid-19 presented.
In addition, we would like to thank all of those willing audience members whose determination and support made our efforts so worthwhile.
--------------------------------------------------------------------------
Postponed gigs in 2020, included:
Siobhan Miller, Bob Fox, Oysters 3, Daphne's Flight, John Blek,
Tannahill Weavers, Fara, Tim Edey, Jonny Coppin,
Honey & The Bear and Becky Mills.
We fully intend to reschedule their gigs just as soon as we can.
---------------------------------------------------------------------------
Sadly, owing to continuing Covid-19 restrictions in 2021, we have so far had to postpone planned gigs with:
The Bully Wee Band, The Leisure Society, John Blek, The Way Down Wanderers (due to be on tour from the USA), McGoldrick, McCusker & Doyle and Daphne's Flight.
We also intend to re-arrange gigs with these performers,
IF and WHEN possible. Please keep checking back here as new information will appear here just as soon as we confirm things.
--------------------------------------------
Please note: our e-mail address is now:
grayshottfolkclub@btinternet.com
Or you can call us on 01428 607096
--------------------------------------------
A little bit of Grayshott Folk Club history:
Grayshott Folk Club went live with our first ever gig on
22nd January 2011. The main aim of Grayshott Folk Club is to bring "quality live music at affordable prices " to Grayshott, which is a village near HINDHEAD in South-West Surrey.
We mostly host Folk bands/musicians and our past guests have included;
Altan, Ashley Hutchings/Blair Dunlop/Becky Mills, Belshazzar's Feast, Breabach, Coig, Jez Lowe & The Bad Pennies, Jon Wilks, Katherine Priddy, Lau, Merry Hell, O'Hooley & Tidow, Sam Carter/Sam Sweeney, Strawbs,The Bully Wee Band, The Churchfitters, The Young 'Uns and Tide Lines, amongst many others.
We occasionally stray off-piste with a little bit of live Americana/Pop/Rock/Prog Rock music and
Caravan, Colin Blunstone & Band, Jarrod Dickenson, Joe Topping & Scott Poley, Linda Lewis, Mike d'Abo, Police Dog Hogan, The Christians and The Leisure Society have all played for us since we started out.
Basically, we do whatever we can, to keep it live, keep it local and to keep hungry musicians off our streets......
Our first choice venue is:
Grayshott Village Hall,
Headley Road,
Grayshott,
Nr. HINDHEAD,
Surrey GU26 6TZ
and from time to time, we also use
Grayshott Social Club, Hill Road, Grayshott,
Nr. HINDHEAD Surrey GU26 6HL
and
St. Alban's Church, Tilford Road,
HINDHEAD, Surrey GU26 6RB
as venues to host our live music events.
If you wish to buy tickets for our gigs, you can buy them in person from either:
Grayshott Post Office, Crossways Road, Grayshott GU26 6HJ
or
Haslemere Bookshop, High Street, HASLEMERE, Surrey GU27
Alternatively, you can call Des O'Byrne on 01428 607096
or e-mail me at: grayshottfolkclub@btinternet.com
for all enquiries relating to Grayshott Folk Club.
We also sell our tickets online through ENTS 24 but please be advised there is a 10% surcharge for using this service.
--------------------------------------------
Our future gigs will be announced, as and when they are confirmed and once we have found a way to ensure we can put on gigs that are Covid-19 safe.
Watch this space and do please keep coming back to us for updates!