Grayshott Folk Club started up on 22nd January 2011 with the aim of bringing "quality live music at affordable prices " to Grayshott, which is a village near HINDHEAD in South-West Surrey.
We are also doing what we can, to keep musicians off our streets......
Our main venue is
Grayshott Village Hall,
Headley Road,
Grayshott,
Nr. HINDHEAD,
Surrey GU26 6TZ
and from time to time, we also use
Grayshott Social Club, Hill Road, Grayshott,
Nr. HINDHEAD Surrey GU26 6HL
and
St. Alban's Church, Tilford Road,
HINDHEAD, Surrey GU26 6RB
as venues to host our live music.
If you wish to buy tickets for our gigs, you can buy them in person from either:
Grayshott Post Office, Crossways Road, Grayshott GU26 6HJ
or
Haslemere Bookshop, High Street, HASLEMERE, Surrey GU27
Alternatively you can call Des O'Byrne on 01428 607096
or e-mail me at:
family@obyrne1.plus.com
We also sell tickets online through Ents24 but please be advised that there is a 10% surcharge when you use this service.
--------------------------------------------
Friday 2nd November 2018 @ 7.30pm
DAMIEN O'KANE & Band
Damien is a top singer/song writer/guitarist and Banjo player from Coleraine, Northern Ireland. He has taken some of the greatest songs in the folk canon – 'The Blacksmith', 'The Banks Of The Bann', 'I Am A Youth' and 'The Green Fields Of America' included – and reinvented them in refreshingly original ways. He also has an excellent band.
Listen to his version of the song "Poor Stranger" here: https://www.youtube.com/watch?v=3IrkcZJJ4VA
+ Mitchell & Vincent
David Mitchell and Graham Vincent are a folk duo from Dorset and Somerset who bring traditional and contemporary styles on Fiddle and Guitar to folk tunes and songs from around the British Isles.
Tickets are £16 Adults/£8 Under 16s and are available from:
Des O'Byrne on 01428 607096
**Please Note: This gig will be taking place at:
St. Alban's Church, Tilford Road, HINDHEAD, Surrey GU26 6RB
---------------------------------------------------------------------------
Monday 26th November 2018 @ 7.30pm
LAU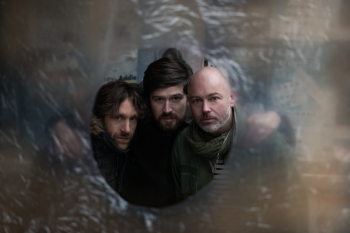 Individually and collectively, these guys are the very best there is in Folk music. Their innovative and inspirational music marries Folk and Electronica and has won them countless awards and kept them at the top of the Folk tree for over ten years. We are delighted to welcome them to Grayshott Folk Club.
No Support
Tickets: Adults £22/Under 16s £11
Available from Des O'Byrne on 01428 607096
---------------------------------------------------------------------------
Friday 14th December 2018 @ 7.30pm
BELSHAZZAR'S FEAST
http://www.belshazzarsfeast.com/
Superb musicianship and two razor sharp wits are a winning combination for a Christmas Show. You'll love the music and possibly die laughing too.............
+ The Courtiers
http://thecourtiers.co.uk/video/
a four-piece acoustic Folk band from Portsmouth with Irish/Celtic influences.
Tickets: Adults £16/Under 16s £8
Available from Des O'Byrne on 01428 607096 --------------------------------------------