Grayshott Folk Club started up on 22nd January 2011 with the aim of bringing "quality live music at affordable prices " to Grayshott, which is a village near HINDHEAD in South-West Surrey.
We are also doing what we can, to keep musicians off our streets......
Our main venue is
Grayshott Village Hall,
Headley Road,
Grayshott,
Nr. HINDHEAD,
Surrey GU26 6TZ
and from time to time, we also use
Grayshott Social Club, Hill Road, Grayshott,
Nr. HINDHEAD Surrey GU26 6HL
and
St. Alban's Church, Tilford Road,
HINDHEAD, Surrey GU26 6RB
as venues to host our live music.
If you wish to buy tickets for our gigs, you can buy them in person from either:
Grayshott Post Office, Crossways Road, Grayshott GU26 6HJ
or
Haslemere Bookshop, High Street, HASLEMERE, Surrey GU27
Alternatively you can call Des O'Byrne on 01428 607096
or e-mail me at:
family@obyrne1.plus.com
We also sell tickets online through Ents24 but please be advised that there is a 10% surcharge when you use this service.
-------------------------------------------
MONDAY 26th November 2018 @ 7.30pm
LAU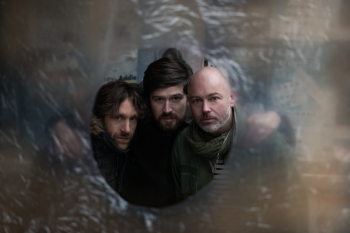 Individually and collectively, these guys are the very best there is in Folk music. Their innovative and inspirational music marries Folk and Electronica and has won them countless awards and kept them at the top of the Folk tree for over ten years. We are delighted to welcome them to Grayshott Folk Club.
Lau features the considerable talents of:
Aidan O'Rourke: Fiddle
Martin Green: Accordion/Wurlitzer/Keys/Electronics
Kris Drever: Guitar/Vocals
and the band will be playing songs and tunes from their soon-to-be released new album called "Midnight and Close Down", a track from which ("Riad") was played on the BBC Radio 2 Folk Show on Wednesday 31st October 2018 during an interview between Aidan O'Rourke and Ricky Ross (who was sitting in for Mark Radcliffe, that night).
You can listen to that interview in full here and it starts about 20 minutes into the programme.
https://www.bbc.co.uk/sounds/play/m0000yr6
No Support
Tickets: Adults £22/Under 16s £11
Available from Grayshott Post Office, Haslemere Bookshop
OR Des O'Byrne on 01428 607096
---------------------------------------------------------------------------
Friday 14th December 2018 @ 7.30pm
BELSHAZZAR'S FEAST
http://www.belshazzarsfeast.com/
Superb musicianship and two razor sharp wits are a winning combination for a Christmas Show. You'll love the music and possibly die laughing too.............
+ The Courtiers
http://thecourtiers.co.uk/video/
a four-piece acoustic Folk band from Portsmouth with Irish/Celtic influences.
Tickets: Adults £16/Under 16s £8
Available from Des O'Byrne on 01428 607096
--------------------------------------------
2019 Dates
Friday 18th January 2019: THE BULLY WEE BAND
February 2019: to be confirmed
Friday 15th March 2019: THE POOZIES
Saturday 6th April 2019: BEN WALKER/JOHN BLEK
Tuesday 9th April 2019: COLIN BLUNSTONE & BAND
Saturday 11th May 2019: TIDE LINES
Friday 31st May 2019: THE LEISURE SOCIETY (tbc)
Other dates will be added as we confirm them.
For further information go to
www.grayshott.com/events/