Updated 12/11/23
Welcome to our most basic of websites!
We hope it provides you with most of the information you want and all of the information you need.
Almost all of our gigs take place at:
Grayshott Village Hall, Headley Road, Grayshott,
Nr. HINDHEAD, Surrey GU26 6TZ
For further information or ticket reservations for all of our events, either call:
Des O'Byrne on: 01428 607096
or e-mail:
grayshottfolkclub@btinternet.com
Established in January 2011, Grayshott Folk Club brings you the very best in Folk, Roots and Acoustic live music events.
We generally host one or two events most months and have a well-appointed and comfortable venue, which has wonderful facilities for both performers and audience alike, as well as having superb acoustics.
We run a fully-licensed Bar, which stocks a range of locally-sourced Bitters (from the Triple fff Brewery near Alton and Langham's Brewery, near Midhurst).
We also stock Wine, Cider, Lager and a variety of soft drinks are also available.
Perhaps you might prefer Tea or Coffee?
We sell all of these at reasonable prices.
-----------------------------------------------------------------------
Below you will find information about our confirmed gigs for November-December 2023:
Next Up:
Sorry but this gig has now sold out.
Thursday 30th November 2023 @ 7.30pm
POLICE DOG HOGAN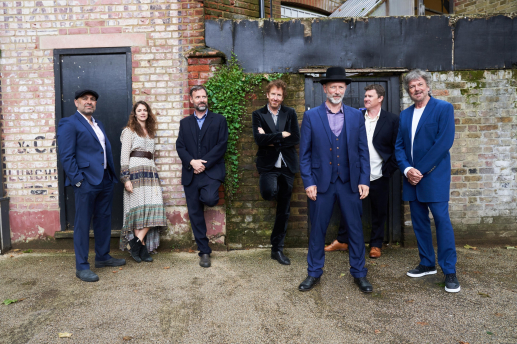 Our favourite Folk/Americana band are back again!
Who could forget their two outstanding back-to-back shows in the shadowy days of June 2021 during the Covid pandemic, when capacities were strictly limited and everyone had to be socially- distanced? Police Dog Hogan knocked it out of the park with those shows and have continued to grow from strength to strength since those challengng times.
They are invited to appear at many of the biggest Folk/Americana festivals, throughout the U.K.
Now the band are on the road again and bringing many of their most popular songs to the people, as well as new music from their sixth and latest album, called "Overground", which was released in 2022.
Watch/listen to:
"Hold On To Love":
https://www.youtube.com/watch?v=w2Bm2UAHCUs
and
"Galway Girl":
https://www.youtube.com/watch?v=D__jloAGkAQ
and the sublime "Devon Fields" right here:
https://www.youtube.com/watch?v=qGtavJ8mTZ8
The band blend guitar, banjo, whistles, drums, fiddle and trumpet to great effect and their songs cover the whole range of human emotions and subject matter from the sublime to the "cor blimey".
You won't fail to be moved and amused so we strongly recommend you get your tickets early for this show as Police Dog Hogan are such a brilliant live band.
At:
St. Alban's Church,
Tilford Road,
HINDHEAD,
Surrey GU26 6RB
Tickets £18
Available from: Des O'Byrne on 01428 607096
grayshottfolkclub@btinternet.com
or online at Ents 24:
https://www.ents24.com/hindhead-events/st-albans-church/police-dog-hogan/6797168
--------------------------------------------
Wednesday 20th December 2023 @ 7.30pm
Grayshott Folk Club's Annual "Christmas Special"
with Johnny Coppin's "Upon A Winter's Night"
We always try to present an uplifting, joyous and seasonal show at this time of year and we are delighted to have rescheduled our postponed "Christmas Special" from 2021, which was scuppered by Covid.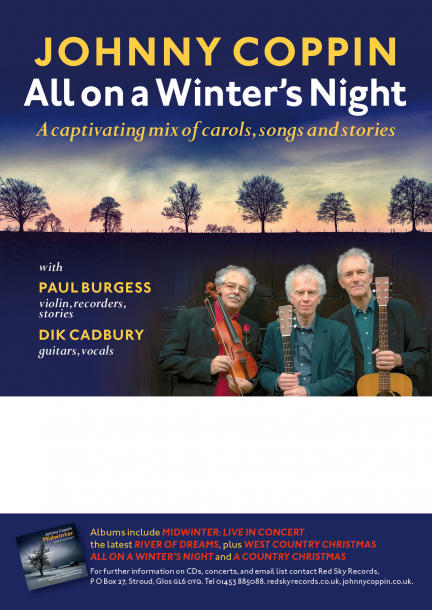 Johnny has produced fourteen albums, five of which, have a seasonal or Christmas theme to them and this show will include a selection of songs from those albums.
Listen to Johnny's "Keep The Flame Burning" here:
https://www.youtube.com/watch?v=aHHqxuPAWVQ
Tickets £18
Available from Grayshott Post Office
(in person only, from 1st December 2023)
By phone from Des O'Byrne on 01428 607096
e-mail: grayshottfolkclub@btinternet.com
or online at:
https://www.ents24.com/nr-hindhead-events/grayshott-village-hall-1/johnny-coppin/6807150
-----------------------------------------------------------------------
Between March 2020 and June 2021, the Covid pandemic meant that events were beyond our control and whilst we had to postpone a dozen gigs or more during that time, we are proud to say that we still managed to put on some socially-distanced, limited capacity gigs and witnessed some memorable musical performances between lock downs, those being:
Katherine Priddy/Jon Wilks
September 26th 2020
Zoe Wren + Hannah Dorman
October 22nd 2020
Police Dog Hogan
Friday 25th June 2021
We sincerely thank all of these performers for putting on excellent shows, despite the obvious challenges that the Covid-19 situation created.
We would also like to thank those willing and supportive punters who kept the faith and helped us stay afloat, when so many were sinking.......
Since restrictions were fully lifted in July 2021, we have thoroughly enjoyed cracking gigs by:
Friday 6th August 2021
MERRY HELL
Sunday 5th September 2021
SERIOUS CHILD WITH ANDY RUDDY
+ KIRSTY MCGEE
Saturday 30th October 2021
INDIA ELECTRIC CO.
Saturday 6th November 2021
THE TANNAHILL WEAVERS
Friday 12th November 2021
COIG
+ COPPER VIPER
Friday 28th January 2022
NIALL MCNAMEE & BAND
Saturday 19th March 2022
THE TRIALS OF CATO
Friday 22nd April 2022
CUA
+ ANTOINE & OWENA
Friday 14th May 2022
HONEY & THE BEAR with FRIENDS
Friday 15th July 2022
BOB FOX
Saturday 6th August 2022
THE OCELOTS
Saturday September 2022
KATHRYN ROBERTS & SEAN LAKEMAN
Saturday 15th October 2022
BLACKBEARD'S TEA PARTY
Friday 4th November 2022
STEVE WICKHAM & RAY COEN
+ Rebecca Jayne
Saturday December 3rd 2022
INDIA ELECTRIC CO.
Friday 16th December 2022
ST. AGNES' FOUNTAIN
SOLD OUT
Saturday 28th January 2023
BARN DANCE/CEILIDH WITH: THE HOG'S BACK BAND
Saturday 11th February 2023
KITEWING
(Alden & Patterson with The Shackleton Trio)
Saturday 24th March 2023
THE HONEYBEES
(Odette Michell, Amy Goddard, Zoe Wren)
Saturday 22nd April 2023
THE OCELOTS
(Ashley & Brandon Watson)
+ Hannah Scott
Friday 26th May 2023
JOHN BLEK
Saturday 5th August 2023
MERRY HELL
+ Virginia Kettle
SOLD OUT
Saturday 23rd September 2023
SILVERBLUES
(Ray Jackson-Lindisfarne, Ric Sanders-Fairport Convention,
Tom Leary-Feast of Fiddles, Vo Fletcher-The Ric Sanders Trio)
SOLD OUT
Saturday 14th October 2023
JAMES YORKSTON/NINA PERSSON (The Cardigans)
SOLD OUT
Saturday 11th November 2023
HONEY & THE BEAR + Friends
-----------------------------------------------------------------------
Postponed gigs in 2020, included:
Siobhan Miller, Bob Fox, Oysters 3, Daphne's Flight, John Blek,
Tannahill Weavers, Fara, Tim Edey, Johnny Coppin,
Honey & The Bear and Becky Mills.
We have now honoured most of these gigs and hope to reschedule the others, when and if we can.
-----------------------------------------------------------------------
Sadly, owing to continuing Covid-19 restrictions in 2021, we had to postpone even more planned gigs with:
The Bully Wee Band, The Leisure Society, John Blek,
The Way Down Wanderers (due to be on tour from the USA),
McGoldrick, McCusker & Doyle and Daphne's Flight.
We also intend to re-arrange gigs with these performers,
IF and WHEN possible. Please keep checking back here as new information will appear here just as soon as we confirm things.
--------------------------------------------
Please note: our e-mail address is now:
grayshottfolkclub@btinternet.com
Or you can call us on 01428 607096
--------------------------------------------
A little bit of Grayshott Folk Club history:
Grayshott Folk Club went live with our first ever gig on
22nd January 2011. The main aim of Grayshott Folk Club is to bring "quality live music at affordable prices " to Grayshott, which is a village near HINDHEAD in South-West Surrey but Grayshott Village Hall is actually situated just inside the Hampshire border.
We mostly host Folk bands/musicians and our past guests have included;
Altan, Bob Fox, Acoustic Strawbs, Ashley Hutchings/Blair Dunlop/Becky Mills, Belshazzar's Feast, Breabach, Coig, Jez Lowe & The Bad Pennies, Jon Wilks, Katherine Priddy, Lau, Merry Hell, O'Hooley & Tidow, Sam Carter/Sam Sweeney, St. Agnes' Fountain, The Bully Wee Band, The Churchfitters, The Young 'Uns and Tide Lines, amongst many others.
We occasionally stray off-piste with a little bit of live Americana/Pop/Rock/Prog Rock music and
Caravan, Colin Blunstone & Band, James Yorkston/Nina Persson, Jarrod Dickenson, Joe Topping & Scott Poley, Linda Lewis, Mike d'Abo, Police Dog Hogan,
The Christians and The Leisure Society have all played for us since we started out.
Basically, we do whatever we can, to keep it live, keep it local and to keep hungry musicians off our streets......
Our first choice venue is:
Grayshott Village Hall,
Headley Road,
Grayshott,
Nr. HINDHEAD,
Surrey GU26 6TZ
and from time to time, we also use
Grayshott Social Club, Hill Road, Grayshott,
Nr. HINDHEAD Surrey GU26 6HL
and
St. Alban's Church, Tilford Road,
HINDHEAD, Surrey GU26 6RB
as venues to host our live music events.
If you wish to buy tickets for our gigs, you can buy them in person from:
Grayshott Post Office, Crossways Road, Grayshott GU26 6HJ
Alternatively, you can call Des O'Byrne on 01428 607096
or e-mail me at: grayshottfolkclub@btinternet.com
for all enquiries relating to Grayshott Folk Club.
We also sell our tickets online through ENTS 24 but please be advised there is a 10% surcharge for using this service.
--------------------------------------------
Watch this space and do please keep coming back to us for updates!